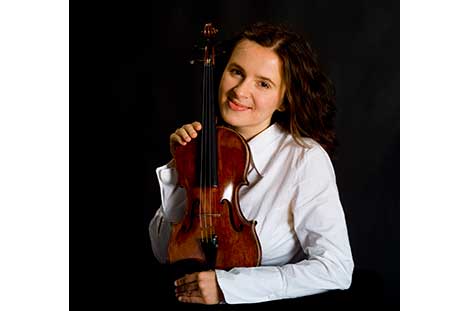 Ania Bard-Schwarz, violin
School:

Texas Woman's University
University of North Texas

Location:

Denton, Texas, USA

---
Ania Bard was born in Poznań, Poland to a professional musical family. Ania's mother was a violinist, choral and orchestra conductor, and a music critic and Ania's father was a trumpet soloist and a music professor. Ania started playing the violin at the age of five and a half. At the age of eight, she tourned with the Greater Poland Symphony Orchestra performing Henryk Wieniawski's Polish Folk Dance "Obertas".
At thirteen, she performed Wieniawski's Caprice no. 1 for two violins with her older sister at the Mirror Hall of Concertgebouw in Amsterdam. The concert was a part of a live broadcast for the Benelux countries and was titled "Young and Talented". At fourteen, Ania became the youngest student at the Maastricht Conservatory of Music in Holland and performed the Saint-Saens Violin Concerto with the Eindhoven Philharmonic.
At sixteen, Ania graduated from the "School for Talented Youth" in Poznań, Poland, and received a full scholarship to study at the University of Kansas with the Lithuanian-Israeli teacher Ben Sayevich. After earning her Bachelor of Music degree, Ania continued her studies on full scholarship at the New England Conservatory of Music in Boston with the late Eric Rosenblith, earning her Master of Music degree in 1999. Following graduation, Ania continued her studies with the late Roman Totenberg, a professor at Boston University.
In 1999, Ania won the first Gregor Piatigorsky Foundation Competition followed by twenty five recitals across: Massachusetts, New York, North Carolina and Florida. Between 2001-2006, Ania performed extensively across Europe as a freelance member of the Polish Radio Symphony Orchestra, Polish Chamber Philharmonic, Sinfonietta Cracovia, and a full-time member of Camerata Stuttgart and the Internationale Bachakademie Stuttgart under such reknowned conductors as: Christoph Eschenbach, Krzysztof Penderecki, Helmuth Rilling, Antoni Wit, John Axelrod, Wojciech Rajski, and many others. At the same time, Ania tourned as a recitalist and performed at Festivals across Europe and Israel, sponsored by the Polish Ministry of Foreign Affairs and Polish Embassies.
In 2008, Ania was invited to serve as the first woman Concertmaster of Orquesta Filarmonica de Teatro Municipal de Santiago in Chile. Upon returning to the United States, Ania earned her Doctor of Musical Arts degree from the University of North Texas in 2014, where she served as an Assistant to Professor Julia Bushkova. Since 2010, Dr. Bard has been the Concertmaster of Plano and Irving Symphony Orchestras in the Dallas FortWorth metroplex and has just been named their Concertmaster Emeritus.
As a Baroque violinist, Dr. Bard performed as a member of Orchestra of New Spain and Texas Camerata between 2010-2018.
Dr. Bard served as Violin Faculty at the International Chamber Music Festival in Positano in Italy in 2010 and 2011. In 2013, Dr. Bard married Dr. David Schwarz, a music theory professor at the University of North Texas, author, and lecturer. Currently, Dr. Bard-Schwarz serves an Adjunct Professor of Violin at Texas Woman's University and the University of North Texas in Denton, Texas.
Dr. Bard-Schwarz researches music and neurology. She is a keen advocate for developing and establishing forms of education aiming at embracing diverse methods of perception and absorbtion of information through varied forms of creative and critical thinking. In her spare time, Dr. Bard-Schwarz loves spending time with her husband and their Labradoodle puppy named Latte, and whenever possible, she hikes, bikes, swims, does yoga, prepares and eats delicious food, visits with friends and speaks to her family overseas. For more information, please visit: www.aniabardschwarz.com