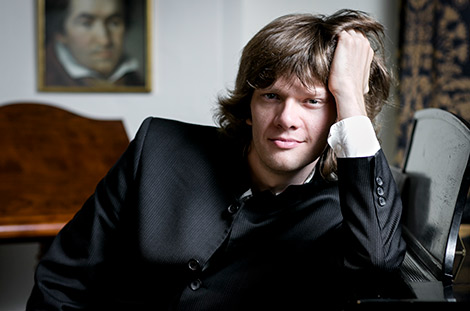 Arsentiy Kharitonov, piano, composer, music history
School:

Private Studio

Location:

Denton, Texas, USA

---
"The Russian pianist and composer, Arsentiy Kharitonov, proved to be the newest addition to the top ranks of this season's artists," said The New York Observer, citing his Carnegie Hall debut as one of the top six concerts of the season. Fanfare Magazine writes, "Arsentiy Kharitonov's sumptuous tone, technical mastery, broad dramatic range, and elegant phrasing place him in the top ranks of keyboard players today. Above this, and trumping most of the musical gymnasts of the day, there is genuine poetry here, the ring of truth, and, it seems to me, a rare sincerity issuing from a deep place in the pianist's heart."
Hailing from St. Petersburg, Arsentiy Kharitonov is first-prize winner of the Franz Liszt International Piano Competition (US). After also winning the Rachmaninov Competition (Russian Federation), he began his concert career with engagements throughout Europe including appearances at Philharmonic Hall, and the Mariinsky Theater in St. Petersburg, at the Royal Conservatory, Stockholm, and the Sibelius Academy in Helsinki, followed by Asian tours with performances in the major halls of, among others, Shanghai, Beijing, and Seoul.
On this continent, he has appeared—among others—at the Music and Beyond Festival in Ottawa, at the National Gallery of Art and Catholic University of Washington, DC, in Dallas, Los Angeles, with orchestra at the Tabernacle at Temple in the Square, Salt Lake City, at St. John's Cathedral, Steinway Hall, and Carnegie Hall in NYC.
The Observer wrote of the latter concert, "…his style is unlike any of his contemporaries, and harkens back to earlier times. The dynamic range had an astonishing breadth and the lyric passages were especially captivating. Rachmaninov's structurally awkward Variations on a Theme of Chopin became a gracefully proportioned whole unlike this reviewer has heard before. This was a performance to remember."
Upcoming will be performances at the Tchaikovsky country estate and the Rachmaninov House in Russia, the Frick Collection in New York, and at concert series and festivals in Canada and the United States, Mexico and Germany.
The artist's recordings for Toccata Classics include the complete piano works of Leo Ornstein as well as the complete chamber works of Robert Kahn. Masterpieces by Tchaikovsky, Rachmaninov, and Scriabin can be heard on the Hartshorn Classical label. His latest recordings offer works by Bach/Siloti, Schubert, Mussorgsky, and Kharitonov on the Sound Atlas label; his set of six Etudes along with Schumann's Kreisleriana was just released on Sound Atlas.