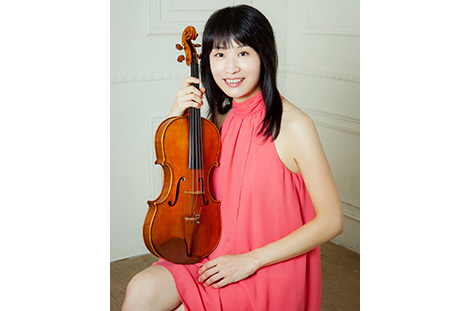 Chia-Ying Hsu, violin/viola
School:

Harper College
Private Studio

Location:

Chicago, Illinois, USA

---
Dr. Chia-Ying Hsu, the founder, conductor and instructior of Chicago Tzu-Chi String Orchestra, is a multi-instrumentalist who plays, teaches and improvise violin, viola and piano. She was a winner of Italy Padova International Music Competition, and has won 1st place in several music competitions in Taiwan. Chicago Suzuki Organization (WSSTE) invited her to perform at Chicago Symphony Orchestra Hall in 2005. She was awarded the Exemplary Performance of 2007 from IMEA (Illinois Music Educators Association). Her live performance was broadcasted on Italian Web Radio TEM (Taukay Edizioni Musicali). In Chicagoland area, she has performed at WFMT 98.7 (Chicago's Fine Arts and Classical Radio Station) and Chicago Cable Channel 25. Not only has she been very active in classical music, she also specialized in contemporary music performances. Her doctoal dissertation is particulaly focused on Viola and Electroacoustic Music. As to new music, she has world-premiered numerous Solo Violin/Viola and Electronic Music works with a five-string electric violin. Several composers have dedicated solo viola pieces to her including Christopher Adler (U.S.), Lars Carlsson (Sweden), and Tsai-Yun Huang (Taiwan).
She has performed with Violent Femmes, Gene Coleman's Noamnesia, MAVerick and Milliennium Chamber Players ensembles. Chia-Ying Hsu received her doctoral degree from University of Illinois at Urbana-Champaign, master from Freiburg Conservatory of Music, Germany, and diploma from University of Music & Arts in Graz, Austria. She taught previously at DePaul and Saint Xavier Universities. Currently she teaches at Harper College. She has served as the judge for IMEA orchestra audition since 2004, and has been the music faculty for OPUS chamber music camp.
Dr. Hsu's students have won 1st place in Chicago based music competitions including the Licata Memorial Contest, Illinois Music Assocation Contest, and Granquist Competition. Others have been accepted to Chicago Youth Symphony Orchestra, and All-State Orchestra of Illinois Music Education Assocation.