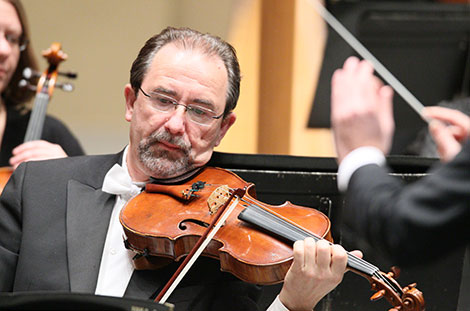 Igor Fedotov, viola
School:

Roosevelt University, Chicago College of Performing Arts
Western Michigan University
Chicago New Music School

Location:

Kalamazoo, Michigan, USA

---
"I"gor Fedotov gave a brilliant solo performance... one would call it a hit...one neve r guessed this work contained such difficulties because of the relaxed and almost playful performance." - Norrkopings Tidningar, Sweden
"lgor Fedotov plays with great warmth and feeling, much in the manner of Michael Kugel, and in keeping with his Russian ancestry and teaching!"-Journal of the American Viola Society
Citizen of both, USA and Russia, he has performed solo recitals throughout the United States and Europe, including performances at the International Viola Congresses of 1996 (Germany), 1997 (USA), and 2000 (Sweden), "International Week of Conservatories" Conference/Festival, S-Petersburg Conservatory (2007,2009) and the 2005 International Bass Convention (USA) on a duo recital with former principal bassist of the London Symphony, Thomas Martin. As a chamber musician, Fedotov has performed with such internationally renowned musicians as cellists Anner Bylsma and Ivan Monighetti, violist Sally Chisholm of Pro Arte Quartet and cellist Martin Lovett from the Amadeus Quartet, among others. He has appeared as performer and teacher at festivals including the Academies Internacionales du Grand Nancy and Bordeaux, France; Musiques en Mer, Italy; Musikdagar , Sweden; and Sewanee and Meadowmount Summer Schools in the United States. In addition, for many years Fedotov served as a member of the Board of Directors for the Stulberg International String Competition.
Fedotov is the recipient of a prestigious Fulbright Scholar Award. He was granted this support in 2006 for his research on music for viola by Russian composers of the 20th Century. It was recorded by NAXOS and released in February 2010: http://www.naxos.com/catalogue/item.asp?item_code=8.572247 http://www.naxos.com/person/Igor_Fedotov/96292.htm
"Violist Igor Fedotov, who teaches at Western Michigan University in the U.S., delivers luminous performances." Editorial Reviews, AllMusic.com, review by James Manheim
"…a virtuosic violist, Igor Fedotov… displays a suavely elegant tone, and a sense of the richly expressive rhetoric that moves each work from the page across the platform and into the audience. This is neither a disc of dusty academic exercises nor of pedantic performance, but of attractive music expertly played with every desire to convince." Review By Barry Brenesal, Fanfare, July 2010
"…Mr. Fedotov devotes a passionate intensity to every note, yet the forward drive of his playing is always felt. He has the remarkable ability to dwell expressively on every detail of every phrase, while at the same time to somehow indicate the role each passage plays in the unfolding structure of a piece. Mr. Fedotov's viola technique is brilliant and comprehensive. His sound is beautiful, moving and haunting, and it displays great range and great variety. The pieces recorded on this CD should become parts of every violist's repertoire and should be widely known by music lovers. The extraordinary musicality of Mr. Fedotov's recordings here will set the performance standard for these pieces for a long, long time." ClassicsOnline.com, Review By WR90016, April 2010
"…The five sonatas are played with urgent and powerful commitment by Fedotov… Kryukov, Krein and Bogdanov-Berezovsky (sonatas) are making their first ever appearance on disc in these first class performances" Review By Jonathan Woolf, MusicWeb International, June 2010
"…Igor Fedotov, a native of Russia, but now living in the States as Professor of Music at Western Michigan University, has a wonderfully full and nutty tone, his intonation perfectly focused." David Denton, David's Review Corner, NAXOS.com, February 2010
"…Igor Fedotov performs with easy assurance. It's clear he knows these works intimately, and can play to the strengths of the music…In proper hands (like Fedotov's) it (viola) can be just as nimble and expressive as the violin… These works were written primarily to showcase the viola, and Fedotov does not disappoint." By Digital Chips, Inc. "DCD Records"
"…Fedotov is a superb, rich-toned player. This disc was recorded in St Petersburg and Michigan (where the university students are fortunate to have him coach string chamber music).Recommended with enthusiasm; a must for violists." Peter Grahame Woolf,