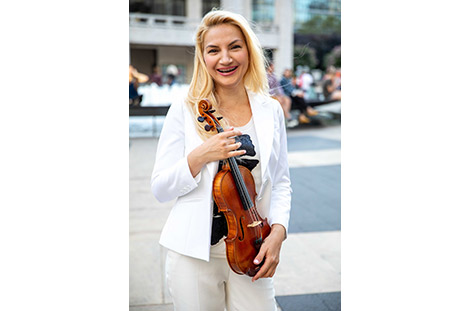 Joanna Kaczorowska, violin/viola
School:

Stony Brook University

Location:

Stony Brook, New York, USA

---
Dr. Joanna Kaczorowska, a native of Poland, is an internationally acclaimed violinist who has performed with today's leading artists including Yo-Yo Ma, Itzhak Perlman, the Emerson String Quartet, Michael Tilson Thomas, Reinbert De Leeuw, David Robertson, and as a guest member of the New World Symphony. She has appeared as recitalist, chamber musician, soloist with orchestra, and music educator through the Americas, Asia and Europe in many of the world's greatest concert halls such as Carnegie Hall (so far, close to 30 performances in Carnegie Hall alone), Suntory Hall in Tokyo, Ozawa Hall at Tanglewood, Beethoven's Haus in Bonn and at many music festivals including Music at Menlo Festival, European String Academy, Aspen Music Festival and Tanglewood Music Festival, the famous summer home of the Boston Symphony Orchestra. As an educator she was on faculty of Professional Training Workshops offered by Carnegie Hall as well as led lots of master classes in various different festivals all around the world. Her performing engagements have also included a two-year contract with Carnegie Hall and The Juilliard School, a U.S. tour with pianist Pablo Lavandera, a U.S. West Coast tour with the prestigious Vega String Quartet, European and American tours with Grammy Award winning conductor Michael Tilson Thomas and New World Symphony, and concerts during such world prestigious events as the Wagner Festival in Bayreuth, Germany to name a few.
Joanna has been featured in The Strad as well as in Strings Magazine; the most prominent classical music magazines in international circulation. She has also been featured on Japan's NHK television, Polish Television, U.S. based television of the Polish community around the globe, as well as on National Public Radio's (NPR) All Things Considered. Her concerts had been reviewed in newspapers all over the world including The New York Times, The New York Sun, and in newspapers in South America and Europe. Dr. Kaczorowska is the founder, Executive Co-Director, and Artistic Director of New York Chamber Musicians, an innovative, chamber music series that breaks with the old traditional concert setting creating intimate experiences for both artists and audience while raising funds for charitable causes through its concerts.
Joanna is also a founding member of the Decoda Ensemble, the first-ever affiliate ensemble of Carnegie Hall.
Joanna has won much acclaim and many prestigious prizes and awards at numerous international competitions. In a duet with pianist Pablo Lavandera, they won First Prize in the 2009 Liszt-Garrison Festival & International Piano Competition in the category, Collaborative Artists: Duo Ensembles with Piano. In the same competition, they were also awarded Special Prize: Best Interpretation Award For Outstanding Performance of Works by Franz Liszt, multiple Performance Prizes from the Chamber Music on the Hill Series, MD and from Hood College, and also the Grand Prize of performing in the Steingraeber Chamber Music Hall during the Richard Wagner Festspiele 2010 in Bayreuth, Germany. More than 100 artists from 22 countries competed in the event. In recognition of her unprecedented winning multiple prizes at the competition and her passion for excellence, Joanna is currently a distinguished judge and guest artist of the 2015 Liszt-Garrison Festival & International Piano Competition. Stony Brook University recently honored Joanna by distinguishing her with the inaugural 40 Under Forty Alumni Award, honoring their brightest, most innovative, and entrepreneurial-spirited young alumni who have used their degrees to pursue their passions, to help others, and lead positive change in the industry, civic service, and beyond.
Dr. Kaczorowska is an alumna of the Ensemble ACJW, a program of Carnegie Hall, The Juilliard School, and the Weill Music Institute in partnership with the New York City Department of Education. In 2006 she was personally invited by Ara Guzelimian, at the time Artistic Director of Carnegie Hall, to be one of only two violinists in the U.S. and personally handpicked and invited to than brand new, groundbreaking two-year residency program in Carnegie Hall and The Juilliard School. With the Academy, Joanna has performed numerous concerts in Carnegie Hall and other New York City venues such as The Juilliard School of Music. She also participated in many artist residencies in universities and colleges across the country. The Academy, besides providing multiple performing and teaching opportunities, prepares artists to be leaders and to manage cultural and artistic institutions in the future, such as The Juilliard School through weekly professional workshops and lectures with such personalities as the President of The Juilliard School of Music, the Dean of School of Music and the Executive and Artistic Director of Carnegie Hall.
Joanna was the distinguished recipient of the exclusive Teresa Sterne Music Trust Fund Annual Award in 2010. The Teresa Sterne Award, like the famous MacArthur "Genius" award and the Gilmore Piano Prize, is a non-competitive award given an artist after extensive, anonymous observation of his/her work in the field. The panelists, unknown to the recipients until the award is given, are the Trustees of the Fund, among the world-class pianist Gilbert Kalish and Norma Hurlburt: Executive Director of The Chamber Music Society of Lincoln Center, one of the eleven constituents of Lincoln Center for the Performing Arts, the largest performing arts complex in the world. Her commitment to new music has led her to many world premieres in the last few years, including the New York and European premiere of Sueños de Chambi by Gabriela Lena Frank at Steinway Hall with pianist Pablo Lavandera. Many other composers across the globe have composed and dedicated compositions to her.
Dr. Kaczorowska serves as a faculty member and performing artist to many music festivals, for example, the Heartland Chamber Music Festival, and the Liszt-Garrison Festival as both a performing artist and faculty as well as conducting masterclasses and judging competitions.
Joanna is an avid advocate of bringing music to underserved communities. Together with Carnegie Hall, she co-founded a project that brought interactive music concerts to oncology hospitals for children in New York City. The project culminated with concerts at Carnegie Hall in May 2008. Joanna also was invited to organize and co-host the Family Concert and Neighborhood Concert series for Carnegie Hall in 2008 and 2009. Dr. Kaczorowska who is famous as a musician and humanist single-handedly organized multiple charity concerts and raised funds during concerts for multiple causes including raising money for musicians of New Orleans after Hurricane Katrina, raising money for victims of Japanese earthquake and tsunami, or blending the concert activities of New York Chamber Musicians, which she is Founder of, with raising money for various causes for children: from autism to raising money for scholarships.
Throughout her highly successful career, Dr. Kaczorowska has performed critical roles for some of the foremost names and venues in the music industry. Through her unique and celebrated musicality, Dr. Kaczorowska has established herself not only as an excellent violinist and violin professor at one of the best music departments in the world of classical music: Stony Brook University Music Department but as a pioneer and visionary in her field who has pushed the boundaries of music and served as an inspiration to others. In addition to being a world-class violinist, Joanna has publicly spoken not only of the classical music world and its current role in society, but has also presented talks in areas such as personal growth, mentorship, inspiration, achievement, and on topics of natural health.
Joanna was invited to present at the inaugural TED conference at Stony Brook University (TEDxSB) on the topic of inspiration and mentorship. Of all presentations made at that conference, Joanna's talk has received the most attention on YouTube. Joanna is also a published journalist, music, and art critic, including as a monthly contributor to the largest Polish-language newspaper in the United States, Nowy Dziennik. She has also maintained a blog of her writings and interviews, including an exclusive one-on-one talk with the Artistic Director of Lincoln Center Chamber Music Society and world-renowned cellist, David Finckel, winner of nine Grammy Awards.
Joanna is an active member, performer, and panelist of prestigious societies such as the American Liszt Society.
Dr. Kaczorowska is a violin and chamber music professor at State University of New York at Stony Brook, where she is also the Performance Director of Undergraduate Studies and Director of Undergraduate Chamber Music. Joanna is devoted to the education of new generations of musicians and audiences. She has been invited to lecture at many venues, including appearances at the New York City Public Library.
Invited on full scholarships to study in the United States, she holds a Doctoral Degree from State University of New York (SUNY), Stony Brook, and two Master Degrees in Violin Performance and Music Major from the University of Massachusetts, Amherst and the Music Academy in Poznan, Poland. Joanna also has a postgraduate degree and Diploma in Arts and Music Management and Administration, from The Poznan School of Social Sciences, in Poland. Privately, Joanna is a science geek with a deep interest in Quantum Physics, String Theory, Dark Energy, and the fabric of Space-Time. Her heroes are Brian Greene and Stephen Hawking. She is a regular participant in the annual World Science Festival in New York City.