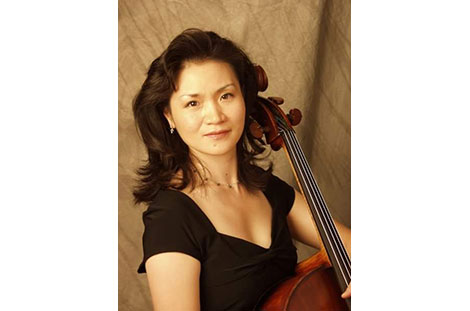 Younga Reitz, cello
School:

Geneva College School of Music

Location:

Pittsburgh, Pennsylvania, USA

---
Cellist Younga Reitz began her musical training at an early age with piano, violin, then onto cello. She graduated from Sunhwa Performing Arts High School in Seoul, South Korea and she holds a Bachelor's degree Cum Laude (1995) and Master's degree (1997) from Duquesne University Mary Pappert School of Music. Ms. Reitz was inducted into the Pi Kappa Lambda music honor society in 1997. She earned an Artist Diploma in 2001 from the same institute. As the first prize winner of the Korean Music Education Association, Younga Reitz has made a solo appearance with Les Arts de Baroque Orchestra at Hoahm Performing Arts Hall in Seoul, Korea in 1994. Also, her solo and chamber music performance was heard in Switzerland, Holland, and the U.S. Her performances include the winner's recital of Pittsburgh Young Artist Series in 1999. Ms. Reitz has studied with Misha Quint, Anne Martindale Williams, Jennifer Langham, Sung Yon Lee and Lauren Mallory. She has participated in numerous international music festivals in the U.S., Europe and South Korea.
Ms. Reitz is on staff at Geneva College School of Music and is the director of Pittsburgh Youth Concert Orchestra Chamber Strings. She is also the cello coach for Pittsburgh Youth Concert Orchestra (PYCO) and PYCO Jr. Strings.
Ms. Reitz has also served as the principal cello at the Pittsburgh Philharmonic Orchestra, cello coach for the Pittsburgh Youth Philharmonic Orchestra and adjunct teacher at the Pittsburgh High School for the Creative and Performing Arts (2006-2012), String Supplement Teacher at Quaker Valley high school (2009-2010), Center for Musically Talented at CAPA, She has been on the faculty at the City Music Center and Jewish Community Center, and has taught orchestral studies, chamber music, and private lessons in Westminster College, Geneva College, Seton Hill College, Fox Chapel Area High School, Waldorf School of Pittsburgh, Beaver Area High School, Pittsburgh Chamber Music Festival (1997 & 1998), Musik Innovations Chamber Music Camp (2001- 2007), Pittsburgh Youth Concert Orchestra Summer Camp (2014-2019), Pine Richland School District Summer Strings Camp (2002-2017), PMEA District 1 Elementary Strings Fest and Carnegie Mellon Pre-College Programs (2012). She has played in the orchestras including Wheeling Symphony, Erie Philharmonic, Altoona Symphony, Johnstown Symphony and Butler Symphony.
Ms. Reitz is the founder and the director of the Pittsburgh Ensemble (established in 1997) and Good Samaritans Cello Ensemble.
In over twenty-eight years of teaching, her students have participated in many outstanding performing organizations and won numerous competitions listed below.

Pittsburgh Youth Symphony Orchestra (Principal & Section)
Three Rivers Young People's Orchestra (Principal & Section)
Three Rivers Young People's Orchestra Symphonette (Principal & Section)
Pittsburgh Youth Philharmonic Orchestra (Principal & Section)
Pittsburgh Youth Philharmonic Orchestra Prelude Strings (Concert Master & Section)
Pittsburgh Youth Concert Orchestra (Principal & Section)
Interlochen Center for the Arts
Extreme Strings Orchestra
Erie Youth Philharmnic Orchestra (Principal)
PMEA All Eastern Orchestra
PMEA All State Orchestra
PMEA Regional Orchestra (Principal & Section)
PMEA Honors String Orchestra
PMEA Junior String Orchestra (Principal & Section)
PA Governor's School for the Arts
Pittsburgh Youth Consort (Principal & Section)
Pittsburgh Philharmonic Orchestra
Butler Symphony Orchestra (Section)
Pittsburgh Concert Society Competition
Youngstown Symphony Youth Orchestra (Section)
Duquesne Young Artist Competition
Tuesday Musical Club Competition