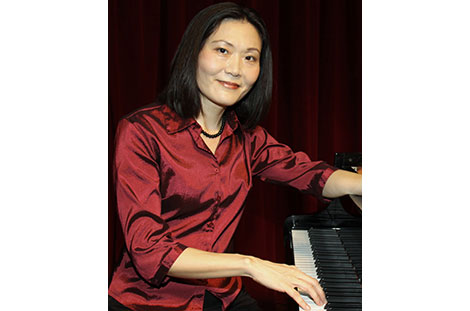 Yun-Ling Hsu, piano
School:

University of Central Florida

Location:

Orlando, Florida, USA

---
An internationally and nationally recognized pianist, chamber performer, scholar, and pedagogue, Yun-Ling Hsu extensively performs, premieres, teaches, judges, and presents as a guest lecturer and speaker in educational institutes, music festivals, piano competitions, and teachers' conferences in Europe, Asia, and North America. Those prestigious activities and venues include Danish National Academy of Music (Denmark), Odeon Music Concert Hall (Denmark), Vianden Music Festival (Luxembourg), piano competitions, auditions, and festivals held in Chinese cities of Beijing, Guangzhou, Hangzhou, Ürümqi (China), and numerous music conferences such as the World Piano Conference (online), College Music Society, MTNA, FSMTA, KMTA, NACWPI, and International ClarinetFest (U.S.A.). In 2015 she was one of the first artists to be invited to perform at the historical Sala Ignacio Cervantes Concert Hall in Havana (Cuba).
Dr. Hsu earned a diploma, bachelor, master's, and D.M.A. degrees in piano performance. She was privileged to have been the last pupil of the legendary American pianist Earl Wild the French-Canadian pianist André Laplante (silver medalist of Tchaikovsky Piano Competition) at The Ohio State University, School of Music. Mr. Wild praised her as "an extremely talented pianist as well as a very meticulous and thorough musician." Six years at the Ohio State University, she held one graduate fellowship and worked as a graduate teaching assistant in piano, chamber music and accompanying, and was nominated for the Award of Excellence in Teaching. She has also participated in master classes and coached with other renowned pianists like Malcolm Bilson, Robert Levin, and Veronica Jochum.
A fully dedicated and experienced piano educator, Professor's Hsu's teaching and research focus on injury-preventive technique, health, and well-being for pianists. She teaches graduate and undergraduate piano students at the University of Central Florida, School of Performing Arts, Music Department, as well as initiates and teaches Summer Piano Camps to pre-college pianists under age 18 in Orlando. Multiple of her former and current piano students won multiple scholarship awards (such as Fulbright Scholarship) and competition prizes and continued pursuit of graduate degrees in prestigious programs in North America and Europe. Many former students are working as accomplished performers and pianists, college piano instructors, private piano teachers, public & private school music educators, and church music directors in the country.
More About Yun-Ling Hsu's Piano Teaching:

• Professor Hsu specializes in teaching injury-preventive technique, health, and wellness on piano practicing as well as teaching natural body movements that are efficient and reduce the risk of injury.

• Professor Hsu strives to provide a friendly and supportive environment where students will learn to play at a high level while feeling comfortable being themselves.

• Each student's unique interests, goals and learning styles are taken into consideration to create an individualized plan.

• Through Professor Hsu's instructions, piano students will learn to:

1. Play with a solid piano technical foundation and be able to express themselves individually and artistically.

2. Evaluate and solve problems on their own and how to think for themselves.

3. Be familiar both standard classical and new piano repertoire in solo, chamber music, and/or collaborative piano.

4. Be sight-read proficient at the keyboard to be able to learn new piano material quickly.